23 novembre 2023
Team Coaching Essentials: Empowering Coaches for Team Success
par Sylvia Larrass, Louise Dufresne
Introduction
We recently had the privilege of conducting workshops in both French and English at the ICF 2023 Congress in Boucherville, Quebec. The response from coaches eager to delve into the world of team coaching was truly inspiring. Many participants already had experience working with teams and were keen to discover innovative ways to enhance their approach to meet the evolving needs of leaders and their teams.
Our workshop aimed to provide a brief overview of Team Coaching, distinguish it from other forms of team interventions, and explore the nuances within the new ICF Team Coaching core competencies published at the end of 2022. In this article, our goal is to highlight key insights, enhance understanding of the ICF ACTC Team Coaching accreditation pathway, and present our approach to continuing support for coaches like you on your journey of continuous improvement focused on teams.
Understanding Team Coaching: Key Concepts
Team coaching, as defined by Georgina Woudstra of the Team Coaching Studio, is about "partnering with a team to unleash its collective power, purpose, and potential to connect and collaborate." In simple terms, team co-coaches work closely with the team to help them tackle challenges, work better together, and achieve remarkable results.
Let's break it down with an example: imagine a traditional team-building workshop that lasts for two days, led by an external expert. During this time, the team engages in activities aimed at improving communication and teamwork. While it can bring short-term benefits, often, these improvements don't stick, and the team falls back into old habits once the external facilitator leaves.
Team Coaching, on the other hand, takes a different and more lasting approach. Co-coaches partner with the team for an extended period, allowing for real transformation. They dig deep to uncover the root causes of challenges, facilitate open conversations, and build a strong team culture. The result? A team that continues to thrive long after the co-coaches have finished their work.
When it comes to working with a team, there are different approaches. Team Coaching, though, stands out because it's a long-term partnership, often lasting over six months (FIGURE 1). During this time, there are regular interactions with the team, strategy sessions with the team leader, and one-on-one coaching sessions with all team members. Co-coaches are flexible, adapting to the team's needs as they go. In Team Coaching, the whole team is the client, and they have control over the agenda. Building trust through confidentiality, team rules, and norms is a big part of creating a safe environment for success.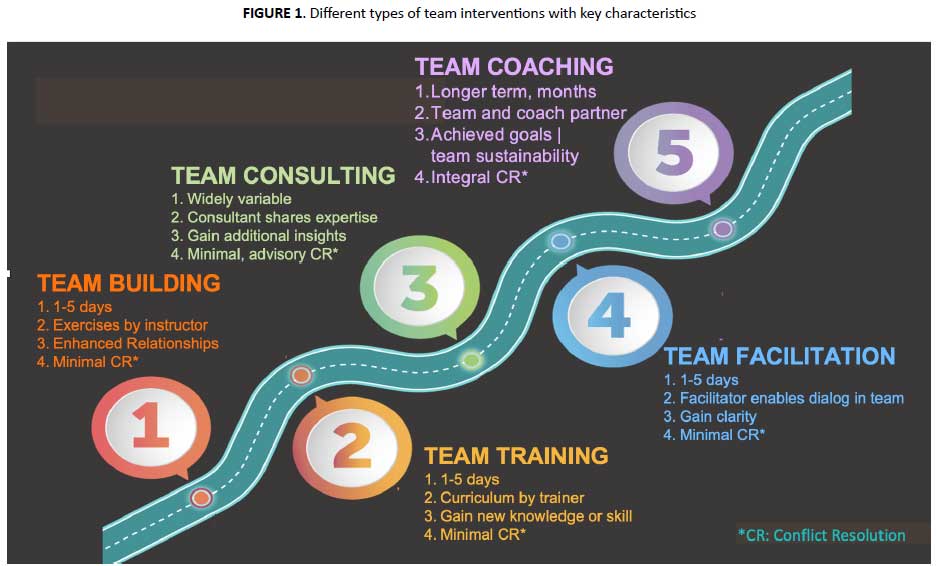 A Team Coaching engagement generally follows an accepted process (FIGURE 2) that involved a key concept called: "Always Be Contracting" (ABC). This means that as the co-coaches work and pivot with the team to meet the team where they are and need to go, the path may change, prompting a renegotiation.



The ultimate goal of Team Coaching is to unlock the team's potential, which is often hidden when everyone works individually. Think of it as using different systemic lenses (FIGURE 3) to help the team see things differently and work together more smoothly. These moments of reflection and adjustment help create a strong team culture that lasts, even after the co-coaches have left.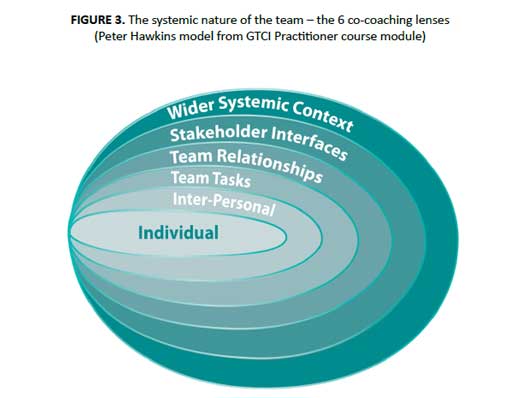 ICF Commitment to Excellence: The ICF ACTC Accreditation
The International Coaching Federation (ICF) has been a pioneer in establishing rigorous standards for professional coaches. Recognizing the increasing significance of Team Coaching, ICF Credentials and Standards introduced the ICF Advanced Certification in Team Coaching (ACTC) (LINK), also publishing team coaching enhancements to the core competencies (LINK).
For coaches aspiring to pursue accreditation, the ICF ACTC sets stringent standards as outlined below:
Hold an active ICF Credential at the Associate Certified Coach (ACC), Professional Certified Coach (PCC), or Master Certified Coach (MCC) level.
Complete 60+ hours of team coaching education (ICF accredited or non-accredited).
Engage in at least five team coaching assignments within the last five years.
Participate in at least five hours of coaching supervision.
Achieve a passing score on the ICF Team Coaching Certification Exam.
The ICF has always been at the forefront of shaping coaching standards, and the ACTC is no exception. It not only recognizes the competence of individual team coaches but also fosters a culture of excellence within organizations.
What's Next: Team Coaching Education Workshops for Coaches
The journey doesn't end here. We are considering delivering a series of six (6) 90-minute Team Coaching educational workshops very soon before the end of 2023, first in French and then in English. In these workshops, we will delve deeper into Team Coaching, expanding upon the concepts we touched on at the ICF Congress and more.
If you're intrigued by the possibilities, stay tuned for updates or express your interest. We value your input and ideas.
Conclusion
In conclusion, today's work landscape presents unprecedented challenges for teams. Team Coaching emerges as a potent solution, unlocking untapped potential. Learning more about the theory, tools, and tactics of team coaching, in alignment with the ICF Advanced Certification in Team Coaching (ACTC), will help coaches adapt to the evolving needs of organizations and allow them to embark on a transformational journey, turning team challenges into opportunities for growth and success.
We look forward to hearing from you soon.