20 septembre 2018
jeudi | 1:00 pm ET
ICF Mondial
1 CCE
Cross Canada Coaching Series
| | |
| --- | --- |
| Lieu | Webinar - Zoom Meeting |
Cross Canada Coaching Series
ICF Vancouver Island – Webinar 1 of 5
This pilot project created by ICF chapters Vancouver Island, Calgary, Edmonton, Toronto and Quebec is ready to begin! Each webinar is free and exclusive to members of these participating chapters.
Thursday, September 20 , 2018
10:00amPT - 11:00am MT - 1:00pm ET

Lily Seto, MA, PCC, CEC
Mary Prefontaine, CPCC
ICF Core Competencies: Meeting Ethical Guidelines and Professional Standards

CCEUS offered: 1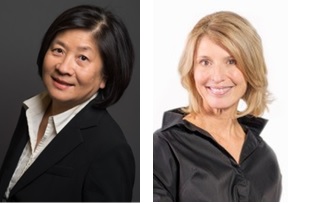 Lily Seto is an experienced internal coach who now has an active global leadership coaching, mentoring and supervision practice. Lily led the design and implement a coaching culture in the BC Public Service, including designing an internal coaching program of internal coaches hired, developed, as well as designing and delivering workshops on taking a coaching approach to leadership. Lily currently serves on the Independent Review Board at ICF, which is responsible to investigate ethical complaints. Lily is the 2016 Recipient of the Prestigious Leadership Victoria Award: Royal Roads Award for Excellence in Coaching and Mentoring.
Mary Prefontaine, CPCC, Co-Founder of the leadership + coaching firm, BREW - a social enterprise based in neuro-science, nature and self-actualization. Mary's years of coaching is strengthened by her knowledge of mindfulness training and her personal meditation and yoga practice. She is a past Events Director of the Vancouver Island Chapter of ICF and the host of a mid-island mentoring circle for women. Mary specializes in leader development of individuals + teams with a client base in Canada + the USA. She is a trained associate of the Ethical Lens Inventory, Emergenetics, EQi 2.0 and Spiral Dynamcis. She encourages her clients + fellow coaches to stay alert to the conscious and unconscious biases we each hold when it comes to the ethical dilemmas we face in our lives. You can learn more about Mary's work at www.maryprefontaine.com or email at mmprefontaine@gmail.com
In this webinar: This webinar has been designed to be interactive, using a coaching approach. We have created a number of scenarios for your learning consideration. During the webinar, you will be randomly assigned a breakout group to work on one of the scenarios. We ask all participants to come prepared to have a conversation about the Ethical case studies and to share their views with the whole group.
ICF Québec members REGISTER HERE.

Note: This webinar will be recorded and archived on each chapter's website. It may be used for future member learning. By registering for this event, you accept these terms.
Look for the next webinar registration information soon!


ICF chapter

Date

Presenter

Core Competency

CCEU

Vancouver Island

September 20th

Lily Seto, PCC

Ethics & Standards

1

Edmonton

October 17th

Dr Joel Rothaizer, MCC

Creating Awareness

1

Calgary

November 15th

Jamie Davidoff, PCC

Powerful Questioning

1

Toronto

February 12th

Sue Sheldon, MCC

Progress & Accountability

1

Quebec

March 22nd

Dr James Gavin MCC

Coaching Presence

1

Remaining webinars take place at 10:30amPT; 11:30am MT; 1:30pm ET

Each webinar is one hour